Blog
5 Reasons to Get Occupational Health Software During COVID-19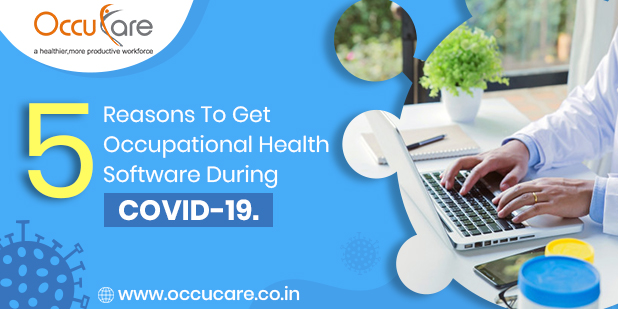 Since the first cluster of cases of coronavirus disease 2019 (COVID-19) infection was identified in Wuhan, China at the end of December 2019, case reports have spread widely over the time and have become a pandemic of crisis proportions and a rapidly rising number of deaths, affecting virtually every country in the world. Although there has been frequent monitoring and reporting of total cases and deaths all over the world, what is less well known is the contribution to these figures by occupational exposure from various types of workers. Clearly, such health-car­­­­­­e staff are at the frontline in terms of risk of infection and death, as has been the case for many recent epidemics of infectious disease such as extreme acute respiratory syndrome (SARS) and Ebola. A physically and mentally stable, well-equipped health-care workforce is essential to the capacity of a country to effectively handle COVID-19 cases. Occupational Health Software plays a significant role in the industry. They can help reduce the health effects of a recession by offering support to employees and companies in developing healthy jobs and new, healthier ways of working.
Below are some points for why should you opt for Occupational Health Software during COVID-19:
1. The Right time is now.
Companies knew that this pandemic was not something they could only wait. COVID-19 is here to remain for the near future and it can not be done forever to restrict the operations. Things will not return to normal; so, we need to learn how to act in the 'new normal'. By now investing in configurable Occupational health software, you can ensure that your company is in a better place to cope with the unforeseen circumstances. Be that COVID-19 or the next major pandemic around the corner. Take the energy this crisis has generated in planning for the next one. The current emphasis on occupational health will not last forever, as we have learned from the rule of example. The pace of technological innovation and transition can never be better than it is now, and there has never been a greater need for it as due to this pandemic, people are concerned about their health and fitness even more.
2. Prioritize health and safety above all.
As COVID-19 spreads to an ever-growing segment of the world's population, every organization's top priority in this time of crisis should be to protect the health of its employees, clients, vendors, and other stakeholders. Some interventions seem excessive and will definitely be discontinued when social distancing is no longer followed, but one thing the pandemic has made clear is just how critical it is to pay attention to issues of "house hygiene" such as ventilation, air filtration, sanitation, and preparedness for management of facilities. And with the help of an Occupational Health software, you can keep all the necessary tracks and reports of your employee's health.
3. Helps with the anxiety of employees.
Despite being an infectious disorder, COVID-19 has also brought about a mental health crisis. In May, the WHO reported that the cases of depression and anxiety are rapidly increasing worldwide. More recently, a Bupa Health Clinics poll reported that 65 percent of the UK population was eager to return to the workplace, with most of their worries arising from the possibility of infection either at work or during their travels. But how does Occupational Health software minimize anxiety among your employees? The loss of a sense of control is a common cause of anxiety. By encouraging your workers to engage in security compliance, you are giving them a degree of influence over their own well-being. Anxiety can have negative effects on the productivity of an employee, and since efficiency, is the number one advantage CFOs are looking for in occupational health systems, it is a strong point to pursue when designing an occupational health software scenario.
4. Changes in Occupational Health processes are required.
There will be a major improvement in occupational health systems. Whatever steps were in place before, many occupational health processes would have to be revamped to cope with the new challenge that is COVID-19. The reality is, even those businesses that see their occupational health systems as solid and successful would need to re-evaluate their choices and make significant changes. Government recommendations have called for employers to carry out COVID-19 risk assessments in order to develop the controls required. With so much depending on them, it is important to routinely perform these risk assessments and provide a structured method and management. Some improvements would require a work permit, and checks and audits. New conditions such as phased changes can make authorization processed slower and more complex. Furthermore, inspection forms would have to be accepted if new safety measures such as physical distancing are taken. It is time to use the energy to press for occupational health software modernization with so many processes being updated.
Configurability is a great benefit to occupational health software as well as improved performance. In the future, you may tweak a configurable solution, either as procedures change or in case of unexpected circumstances such as COVID-19.
5. We are into Technology more.
Despite most pandemic related changes in the sectors, one sector has actually benefited: technology. Technology has to help us cross the 6 feet distance with the modern task of physical distancing. Many companies have left to continue selling their goods across digital channels online. In addition, internal interactions would have gone interactive. The increase in the use of Microsoft Teams in the past two months illustrates this. Companies are looking to replace paper-based systems with IT quickly, reducing ongoing disruption. If it were not for cloud computing, it would not be feasible for many workers actually working from home. In fact, as per a Gartner Inc. survey, 74 percent of CFOs plan to allow certain workers to continue on a permanent basis to work remotely.
Why would workplace health not go along with more automated processes?
Even when most workers are not operating from home, which may be the case in critical industry organizations that need physical labor, Occupational health software helps increase productivity. A key advantage of occupational health software is improved efficiency by simplified workflows to alleviate the administrative burden. Moreover, businesses that have already invested in technology such as Office 365 will further utilize the Occupational health software platform from vendors providing integration with that system. Integrating with your corporate IT saves admin time, improves user acceptance, and keeps Occupational health associated with IT strategies. Executives are very much conscious of the importance of technology right now. This makes introducing new workplace health technologies an opportune moment.
In this time of COVID-19, the health of the employee is very crucial for any industry, and it's time to build a case for Occupational Health Software in this period by using the 5 reasons that we have given you here.