Blog
How Software Can Aid Production of Occupational Health Solutions for Seasonal Dangers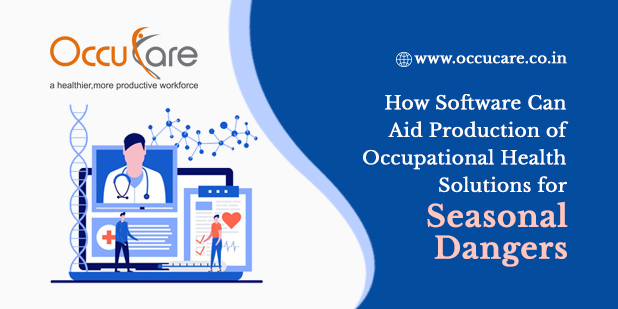 The Organization are facing challenges with a variety of dangers which occurs in different season and are also called seasonal dangers that should be managed by safety officers and various programs should also be conducted at OHC to avoid seasonal dangers. Some of the most popular dangers in the cold season are fog, snow-covered roads, etc, which causes problems and dangers to drivers who have to drive every day irrespective of any season.
Occupational health management software plays a vital role when it comes to aiding the production of health solutions for an organisation. it contains various types of functionalities which are very useful for analysing medical examination, employee details, OPD, injury incidents at the company, numerous reports, etc. it is very important to keep the track of all the hazardous incident which took place in the company to analyse the data and taking suitable action to avoid those incidents which are common in terms of seasonal dangers. pointing out the common dangers which affects the employees are the very first step to creating a solution for seasonal dangers. Employees who operate through office may have chances of spreading cold flu, corona and other airborne diseases which can badly affect their health. in this situation, safety officers or Medical officers can opt for OccuCare health management software in which employee health can be analysed more smartly, medical officers, safety officers or upper management of the organisation can analyse the medical examination of employees through health management software.
Lifestyle style disease tracking of employees is a unique facility in Occucare health management software which helps doctors, safety officers identifying the employees who are suffering from lifestyle disease. special care or counselling can be provided for employees suffering from lifestyle disease. the software includes the functionality which enables the user to send alert to employees for medical counselling through SMS & Email-ID or their health index score can also be shared with employees so that they get to know about their health and start improving it. Analysing of injury report at the company is very important for any safety officers or managers because an injuries can be avoided which occurs commonly and awareness can also be shared through software among employees so that injury due to seasonal dangers can be avoided.
The employee management tool is extraordinary in Occucare software in which employee details can be referred instantly, it helps safety officers to find out the employee details for sending him/her any alert regarding seasonal dangers awareness. Another great functionality of our software is that after analysing the medical examination data of employees, they can be called for counselling and medical examination counselling details can be shared to employees and also stored in the system for further investigation.
If cold, flu, or any other diseases spread at workplace then doctors at OHC have to examine employees and provide consultation to them. in this situation doctors don't have to worry about storing the medical data of patients, thanks to OccuCare health management software in which OPD module comes with several functionalities through which patient OPD can be easily managed. it has functions such as capturing patient vital details (Blood pressure, height, weight, BMI, temperature, blood group, patient complaint and remark if any). after capturing the vital details patient disease can be stored and if any prescription for medicine or test is needed for the patient then it can also be prescribed through the software. Patient OPD records can be saved and referred anytime.
OPD functionality helps medical officers or doctors to save their precious time which allows them to connect with the patient for sufficient time. based on the OPD records doctor can analyse the vital details of employees through graphical methods and with 100% accuracy which enables them to counsel employee more effectively so that employee health can be improved resulting in good productivity and reducing absenteeism in the company.
The most important module which Occucare health management software delivers is Safety module which stores the data of any injury occurred to the employee. it has the functionality to store the data of injury details and can be referred anytime through the software. Injury report help doctors, safety officers, medical officers, safety managers or any other upper management employee to analyse the report which provides the injury details within the organisation.
Occucare health management software can aid the production for occupational health solution for the seasonal mishap very effectively, health connect and wellness functionality helps maintaining the well being of employees. if any awareness program is to be conducted in the organisation then the whole process can be managed through the software from sending alert to employees to storing the program details.
The action plan for preventing employees from seasonal dangers is necessary for any organisation if they want to save their employees from such dangers. Appropriate action should also be taken to prevent such disease which is common in terms of spreading.
Implementing OccuCare health management software at OHC is very beneficial for the organisation to prevent their employees from seasonal danger as it is very useful in controlling the seasonal dangers.