Blog
Is it efficient to have a mobile application to manage the work Permit?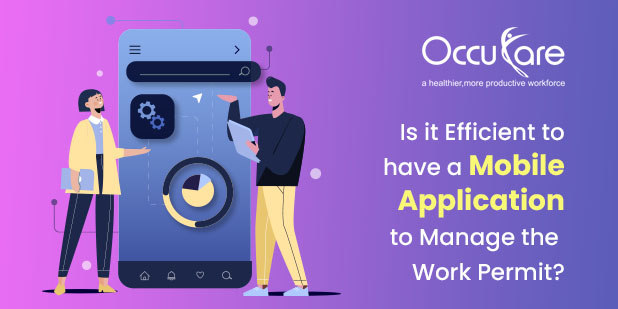 A safety permit-to-work has a beginning, middle, and end, just like any other industrial procedure. Workplace safety has a specified life cycle. Many businesses use safety certificates when doing dangerous maintenance work or when there are inherent process threats to human safety or the environment.
Electrical equipment, line breaks, confined space, and electrical permits are popular in industries including energy, mining, food and beverage, and manufacturing, and there are many types of permits, including hot work, line breaks, confined space, and electrical.
The permit-to-work must be initiated at the start of the life cycle, and this is normally the product of a work order, i.e., some sort of maintenance activity needs to be performed on your organization's properties. A risk assessment is required by the work order in order to identify any potential hazards. Some work orders necessitate a permit, while others do not.
Work orders requiring permits are often performed in dangerous environments, such as explosive atmospheres (ATEX directives), enclosed spaces, and work at heights, all of which pose a risk to the workers. Other work orders are low-risk and do not require a permit, allowing the job to be completed quickly.
Log permit to work requests and assignor complete a permit to work all online and in real-time from an Apple or Android device. Perfect for contractor and subcontractor management during the permit to work phase.
The permit to work framework provides guidance about what work is to be performed for the job activity, where to work, and when from the app. The responsible person can be delegated to determine the job activity and set up safety checklist reminders at each point of the process using the app.
Use the permit to work app to directly grant work permits to contractors and to keep track of a centralized online permit registry that is updated in real time.
During the permitting process, the Work Permit App allows Operations and Maintenance to collaborate. It does away with the paper-based processes that cause delays. Users can fully configure the permit fields based on their individual job activities. Project specifics, possible risks, the type of high-risk job, any mechanical/electrical safety tests, and more are all included in the form fields. As required, the Safe Work Permit app can be integrated with SAP and other systems.
All types of work permits can be developed, processed, and validated in seconds, saving you over 70% of the time you would have spent on spreadsheets or paperwork. With a framework that drives efficiency, protection, and enforcement. An easy-to-use, unified, and highly interactive digitized Permit To Work system designed to seamlessly incorporate into the workflow, involve front-line staff, safety heads, and top-level management.
Some of the features are:
 1. To ensure worker protection, allow Operations and Maintenance to collaborate during the Work Permit process.
2. Submit a request for a digital work permit, review it, and approve it.
3. Tailor the permit fields to the individual work tasks, such as possible risks, the nature of high-risk work, and any mechanical/electrical safety tests, for example.
4. As required, integrate SAP, Maximo, SharePoint, Cloud services, and other systems.
5. Complete the Lock Out/Tag Out Forms./li>
6. Automate job authorization and approval workflows.
7. Documents and photographs should be attached.
8. Digital signatures should be connected.
9. When networking is accessible, work remotely and auto-sync when connectivity is available.
10. Data can be printed or exported in pdf format.
11. Allows for reuse when duplicated.
12. Work in progress visibility via a real-time dashboard.
Manage a variety of permits with the app, including:
– Special Permits
– Hot Work Permit
– Cold Work Permit
– Confined Space Entry Permit
When a contractor arrives on site, they can be given instructions about the hazards and risk controls associated with their work order, job assignment, or operation through the app. All permit documents and records can be accessed from anywhere in the world through the app, which is available 24 hours a day, 7 days a week. When the job is finished, the permit to work forms can be closed from the app, and they will be added to a permanent list of completed permits.
Everybody is on their phones these days, and this is a key tool for the front staff to use in order to provide on-demand access to permit and job management.
Contractors can complete a permit to work form using a tablet, iPad, or smartphone (Android or iPhone), or they can access and progress through permit to work forms using a dedicated web portal before they arrive on site.
The beauty of digital safe working and permits-to-work is that a company can create a library of permits-to-work for both individual and generic workers. This will help you save a lot of time when it comes to job planning and execution.