Blog
Occupational Health & Safety in SMEs of India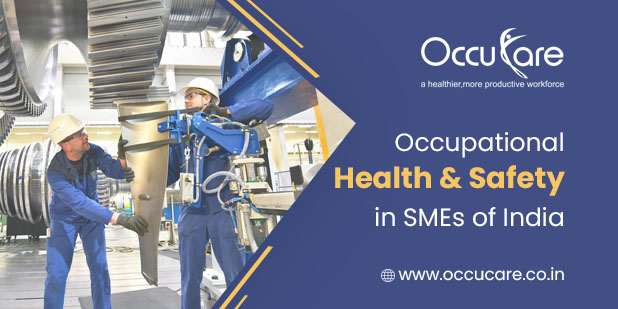 The Indian SME division provides 45% of industrial production and 40 % of the nation's total exportation. It consequently plays an essential part in the progression of the economy by presenting Indian entrepreneurship to the world. In another word, SMEs plays an important role in economic extension for India. There are approx 30 million SMEs in India who hire more than 60 million people by producing a large number of jobs per annum. After the agriculture industry, small companies are the second largest employer of human resources.
The biggest challenge across this sector is to manage the employee's health as the health of employees for any company is important in many matters. Small and Medium Enterprises, face challenges with medical surveillance, risk assessment and medical examination of their employees.
Employees in SMEs are working in Dangerous conditions and more likely to get injured if focus from work is diverted, so in this working conditions employees health should be utmost priority for the SMEs as they are boosting world wide. Several nations have commented on the potential of SMEs, and they judge the profession and economic growth to a great extent based on these companies. The objective of this blog is to share general conclusions on effective ways to prevent occupational illnesses, injuries in SMEs and to gain information related to work, wellbeing, health amenities, health knowledge and occupational health & safety management. The chapter also aims to facilitate considering an informational prospect about Occucare Occupational Health and Safety Management Systems.
The Occucare occupational health management software is designed to keep track of employee health data at very ease. Occupational health management software keeps track of all health and safety-related data and provides the platform for analysis and trending reports to manage the health and clinical data of your employees.
The Occucare health Management solution includes a variety of modules that consist of the following fields: OPD and OPD reports, OPD dashboard, Almost all Lab Tests, OHC Visits record, Biomedical waste management, Immunization management, Employee reimbursement, Audit, Asset management, OHC incident reporting and management, Inventory management (Medicine, Lab chemicals, medical equipment, etc), Front office (includes Appointment and patient registration), Medical Examination, Medical surveillance, Medical examination reports, Medical examination scheduling of employees, Diagnostic module (Lab test results are updated), Medical review module, First aid, Pharmacy, Employee management, Pre-joinee management, LSD tracker, OHC expense management, Ambulance management, Canteen and Pantry management, Employee wellness, etc.
SMEs of India should focus on their employee's health as it is the fastest-growing sector. For an enterprise, their employee health should be the top priority so, in this blog, we would suggest all the SMEs of India or all over the world to consider Occucare health management software. SMEs can save a lot of money by implementing health management software as its very cost-effective. There is smart functionality in the software such as recording OPD records, Medical examination and inventory management, etc.
The medical examination module in Occucare health management software enables enterprises to store medical examination data in the system. It also generates several reports related to the medical examination data of employees. The Examination module consists of a flow which is scheduling an examination of employees through the software itself. Then the medical examination data is imported into the system. According to the medical data of the employees, a health index is generated which relate to health score. Upper management can analyse the health data of their employees. It also helps them to analyse the health data of employees so that measures can be taken to control the employee's health.
Maintaining basic details of employees will now be easier with OccuCare software which allows SMEs to enter the employee's detail and manage their data. Employees data is highly secured in the system and other than enterprise as no one can access it. It can be accessed by the authority from anywhere as it is web-based software.
Medical history screen allows enterprises to analyse the employee health data from one single page and also have the functionality known as examination counselling, it allows user to counsel the employees and at the same time sending the examination counselling detail to employees on their Email Id. It helps the enterprise to improve their employee's health and ensure that no one in the company is ill.
The reimbursement process in registers is very difficult to maintain nowadays as digital technology has taken over it. Our OccuCare health management software stores all the data related to employees reimbursement. Expense details tracking for SMEs is very important so keeping in mind, we have also included the expense tracking functionality in which expense details can be stored as well as tracked also.
The most important function which Occucare includes is the Safety module which can record the Accident details of employees in the company. It stores data like Incident Time, Reporting Time, Place of Incident, Nature And Extent Of Injury, Activity While Accident, PPE Used or not, Treatment type and the Body part affected. These details can be stored which are useful to analyze the incident details which helps enterprises to minimize the incident at their workplace.