Blog
What is Occupational Health Software and Who Should Use It?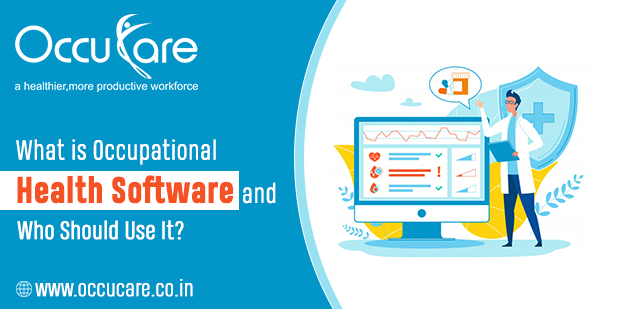 Employees' health for any organization is a key factor for its overall productivity and it should be managed in a better way so that every employee should receive medical attention from their employer. Periodic medical examination of employees should take place from time to time for evaluation of employees' health and giving counseling to employees according to their medical examination results.
Occupational health management software is designed in such a way that efforts which were used in recording medical examination data manually are reduced which results in saving of precious time, based on the medical examination result, diagnosis can be generated within no time, and Doctors at Occupational Health Centers (OHC) can analyze their employee's health and accordingly system generates health index of an individual employee which helps to identify that which employee needs attention regarding improvisation of their health.
Occupational Health centers need to manage sensitive and confidential medical examinations record securely, while also being proactive in maintaining medical surveillance programs and assisting with arising health concerns within the workforce. Organizations must identify and monitor possible health injuries to employees from workplace activity.
Key benefits of occupational health management software are:-
Easily produce employee health records and individual records of health index.

Plan and schedule medical surveillance

or visits to different groups. Organized and secure access to each worker's medical history. Protect employee's data confidentiality and privacy.

Streamline the management of employee health information by tracking employee OPD visits, prescriptions, treatments and medications, Manage inventory details, managing lab test results through a dedicated module from which lab technician updates the results of lab test of an employee.
The real-time dashboard provides information regarding employee appointment for an OPD, expired medicines at the store, near expiry medicines, Injury alerts at the workplace.
Maintain Employee Medical and Health Information in the system to analyze and provide counseling to employees whose health status is not in-line with the test's limits.
Record Employee Injuries and illness details with treatment, prescription given by the doctor or paramedic, and all the details regarding an injury at the workplace can also be recorded in the system.
Employees who are suffering from lifestyle diseases get updated into the system so that special care can be provided to those employees.
Analyse a different kind of reports like employee medical surveillance report, OPD visits history, Medicine stock valuation, Medicine consumption report, Medicine stock transaction, Audit reports, MIS reports, Diagnosis reports, Statistical and analytical reports like Audiometry, pulmonary, and health index report.
Who should use occupational health Software?
Occupational health software is used to monitor the health and safety of employees and handle work-related incidents that may have set employees at risk. Organizations use this type of software to establish rules and best methods that all employees must follow to avoid incidents. Occupational health software also helps organizations comply with industry standards and laws related to health management. This type of software is used by Doctors at Occupational health centers, Paramedic staff, and upper management to analyze the health index of the organization.
Occupational health software can be delivered as a stand-alone solution or as part of the health management of employees in an organization. Moreover, this type of software can be integrated with SAP for getting the employee basic and job details and can also be integrated with medical instruments to record the examination data of employees in the software.
Organizations that have their occupational health units can use employee health software for the smooth functioning of all the operations at the health center.
Organizations who need to conduct pre-employment screening, periodical medical examination for their employees, wellness activity, OPD can use employee health management software to reduce the human intervention, accuracy of the data is assured.
The OccuCare Occupational Health management software provides a secure, and integrated solution for the reactive and proactive needs of Occupational Health Units. OccuCare is a web-based Occupational Health Management software that gives visibility to enterprise-wide employee medical examination data, allows centralized storage and tracking, and ensures regulatory compliance. Robust system logic provides automated notifications when employees are due for medical examinations and other critical assessment activities.
The OccuCare Health management software helps you streamline the supervision of employee medical surveillance data by detecting abnormal result of medical examination of employees and generate diagnosis which can be analyzed by doctors and upper management so that you can spend a shorter time on generating diagnosis and more time giving care to your employees.
There are several types of reports of employee medical examination, pre-employment screening, OPD case reports, Diagnosis reports, Medicine inventory reports, Compliance reports, etc, which can be analysed according to the needs of an organization.
OccuCare is a one-stop solution for all the health management needs of industries who want to save time, reduce manpower, data accuracy, and many more.
An online free demo of OccuCare shows the amazing features of an employee health management software which is the best solution for any organization who wants to improve the health management of their employees.