Blog
Why hospital management system is not a replacement for an Occupational Health Management Software?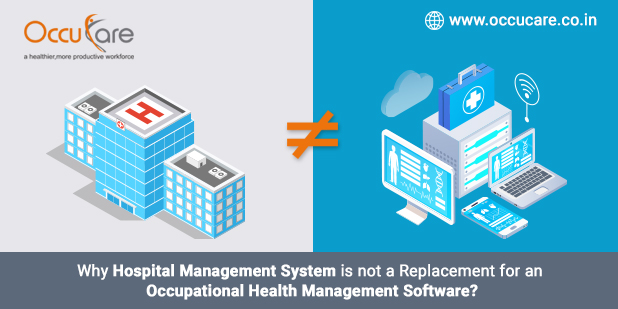 The IT sector has revolutionized the field of healthcare, whether it is for Occupational health or Hospital management. Hospital management software (HMS) is a web-based software that manages the operations held at hospitals. This software helps the hospital to go paperless and reduce manpower.
HMS was introduced to solve the difficulties of hospital staff who were facing issues while handling documents of patients in the various departments of hospitals. Hms provided software where the electronic medical records of the patients were stored right from the first visit of the patients to the hospital. OPD records, test scheduling, test results, medicine prescription history, important reports related to patient history can also be stored in the system which makes HMS an efficient and user-friendly software.
Occupational health management software is different from hospital management software because hospital management software keeps and manages the data of patients whereas occupational health management software stores and manages the data of employees working in the plant or industry.
Occupational health management software has additional features when compared to hospital management software like safety module which allows the company to enter safety-related (incident Management) data in the software.
Occupational health and safety prevent an accident as it has a module that informs workers in an organization about safety practices and the use of PPE while operating in Hazardous conditions. Health and safety (OHS) relate to security, well-being, and welfare matters in the workplace. OHS includes rules, laws, and programs pointed for developing a workplace environment for workers and co-workers, family members, clients, etc. Promoting occupational health and safety norms ensure a more reliable brand image, good company, and higher worker morale. Occupational health and safety approach different types of workplace accidents and concerns such as chemicals and physical uncertainties, biological agents, etc.
The multiple fields of occupational health and safety with the aim of occupational safety and health programs is concerned to promote a safer and healthier work environment. The occupational health and safety software focuses on how an organization can reduce accidents at the workplace by introducing a dedicated module through which employees are trained on PPE use and scaffolding usage instructions. OHS software minimizes the accidents caused by employees. Organization administrators and employers are required to provide a safer working environment for all employees. Working requirements at employment in the existing economy need to include determinants of operating hours, salary, maternity procedures, prerequisites for health promotion, and security. Let's have a look at some key features of occupational health management software;
1.
Clinical Management –
Track employee periodical medical examinations, diagnosis based on the examination, group of tests assigned to which employees, analyzing examination report with the help of charts, graphs.
2. Incident management – Record safety-related incident in the system and can manage the details of the accident that happened at Occupational health Centres, reports can also be exported from the system and can be uploaded to OSHA.
3. Medical surveillances – Track which employees are due for medical examination and when the date is scheduled for the test. OccuCare health management software is adaptable enough to manage any order in any organization with the required configuration.
4. Front office – Employee who needs to consult doctors at Occupational health centers can register themselves at the front desk and an appointment will be generated which doctors can also see in the system and can proceed to check the employees who have visited for medical consultation.
5.
Compliance report –
There are several compliance reports which can be generated and exported from the system.
6. Employee wellness – Details of employee wellness conducted at Occupational health centers can be uploaded into the system.
7. OPD Case management – Doctors at Occupational health Centre can enter the details of an OPD like Disease, Diagnosis, Prescription, Referral details, and OPD related reports can also be seen from the system itself.
8. Medical equipment Integration – Typical medical equipment can be integrated with the software which records the data captured by the medical equipment.
Occupational health management software contains many features which hospital management software does not have. Hospital management software cannot replace health management software.
Employee wellness, Health connect and HR modules are not present in the hospital management software which are important modules in the software. in addition to that, we cannot schedule employee periodical medical examination or annual medical examination in hospital management software as it is patient specific software.
The hospital management system plays a vital role in clarifying the workflow of hospitals by digitizing the whole operations of a hospital but it has no role in occupational health management, for managing the health of employees at industries or organizations. Occucare employee health management software is the best in the market.