Blog
Lifestyle Disease Tracking Feature of OccuCare Software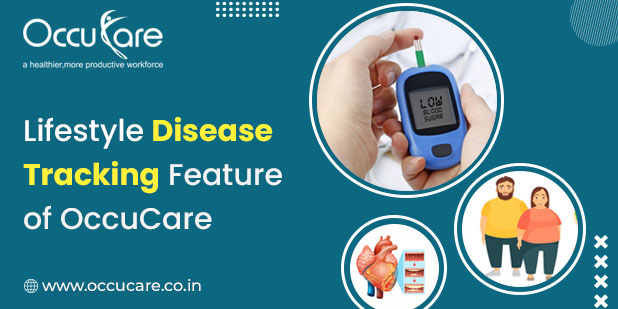 It would be really easy for an organization to track the employees who are suffering from Lifestyle diseases with the help of Health management software which is used in Occupational health centers, In this Corona pandemic lot of organization are tracking details of their employees who are suffering from lifestyle disease to monitor their health frequently so proper treatment can be given to them in order to save them from the deadly virus.
OccuCare health management software enables organizations to filter the employees who are suffering from lifestyle diseases with respect to their OPD and Examination records present in the system.
Lifestyle Disease
Changing lifestyle, Urbanization, Age structure, have placed our country at a position where it is facing a huge burden of non-communicable disease. Most of the disease from this group never cures and result in severe complications leading to death. There are multiple lifestyle diseases like diabetes, cardiovascular diseases (hypertension, high cholesterol), Stress and depression, cancer and lung diseases.
Lifestyle diseases are generally caused by lack of physical activity, eating unhealthy foods, Smoking, Alcohol, which leads to dangerous non-communicable diseases like Obesity, Diabetes, COPD, Cardiovascular diseases, etc. Lifestyle and diet are major risk factor which should be controlled to avoid having such diseases. Lifestyle diseases are preventable as there are some remedies or activities that aim to reduce the disease affecting people.
Here are the most common lifestyle diseases in India,
Obesity
Obesity is a state which makes you more likely to other lifestyle diseases like diabetes and heart issues. India has been rated as the second-highest nation to have an obese population. And Indians, particularly the younger age, is at a much greater risk. To control obesity, people should be able to sustain a healthy weight and live an active and healthy lifestyle. Obese people should drink lots of water and avoid having oily foods. Besides, they should also add more fibres, fruits, and vegetables to their diet.
Cardiovascular disease
Any condition affecting the heart may refer to Heart disease. There is multiple heart disease which affects the heart in different ways and is also preventable. Cardiovascular disease involves the heart or blood vessels and there are several risk factors for the disease such as High blood pressure, smoking, high cholesterol, diabetes, inactivity, overweight, etc.
This disease can be prevented by living a healthy lifestyle and if a person is suffering from CVD it can be controlled by having a balanced diet, stop smoking, exercise regularly, maintain a healthy weight, cut down on alcohol and last but not the least is Medication.
Hypertension
Hypertensive heart disease is related to heart conditions caused by high blood pressure. The heart operating under high pressure causes different heart disorders.
High blood pressure is a main key factor for hypertensive heart disease and risk may increase if a person is overweight, smoker, don't exercise and eat food which is high in fat and cholesterol.
Diabetes
Diabetes is a serious condition which causes high sugar levels than normal. Diabetes occurs when the human body is not able to make or use sufficient insulin (Hormone present in the pancreas). Insulin act as key to open the cells and allow the sugar (Glucose) from food entered then the human body uses glucose for energy.
Diabetes can be controlled by regularly exercising, controlling the carb intake, increasing the fibre intake, drinking water to stay hydrated, choosing low glycemic index food, managing stress level, frequent monitoring of blood sugar level, get enough quality sleep.
LifeStyle Disease tracking functionality in OccuCare helps the organisation to track the employees who are suffering from Lifestyle diseases such as Diabetic, Hypertension, Obese, etc. OccuCare health management software provides information and compliance data regarding Lifestyle disease count listing by analysing medical examinations and clinical visits of all the employees. It provides Lifestyle disease data for newly diagnosed and existing diagnosed employees with respective Lifestyle disease. The clinical visits for Lifestyle disease counselling are managed in the OPD module itself which helps to reduce the redundancy of complexity and make the task easier and efficient. OccuCare provides a separate compliance module for Lifestyle disease tracking with that user can analyse the required data. The module gives you the graphical and tabular trend analysis for quarterly, half-yearly, and yearly count data analysis and a complete overlook of trend conditions for individual Lifestyle Disease.
In OccuCare health management software, Lifestyle disease flow will include the data entry screen and analysis screen. Records from both examination and OPD will be considered for tracking lifestyle disease.
Follow-ups for Lifestyle disease patients can be performed from OPD screen itself. For including examination data with Lifestyle disease tracking, regular updating of examination data and diagnosis tracker will be required. The Lifestyle disease data entry screen includes parameters for Habit, Medication, BMI, Hypertension, Diabetes, Lipid profile. For diabetes and hypertension, there are three categories Normal, Newly Diagnosed and Existing diagnosed which also includes newly pre-condition. A new Lifestyle disease tracker module has been introduced for Lifestyle disease tracking under MIS. Lifestyle disease dashboard screen provides the count of Lifestyle disease patients in the occupational health unit which can be categorized as department wise, employee wise, or company wise.